You can now create a learning platform or video platform for education with on-demand and live video. Recently, video has proven to be an irreplaceable tool in the education sector. It has improved the classroom experience and has made remote learning viable. In the initial days of the outbreak of the pandemic, online video entered the education industry.
Now, its relevance has encouraged students and teachers to bridge learning and tutoring with a new-age online video education platform. This requirement of assuring safety for both in-person is more important than ever, and the video streaming platform has made easy the pace slowly. Video education imparted in VOD or live formats in the online world is definitely here to stay!
The Benefits Of Using Online Video Education Platforms:
Learners of today want relatable, customized, self-paced, and moving content. This requirement is satisfied with the online learning mode. Here, students can learn at their own comfort and needs.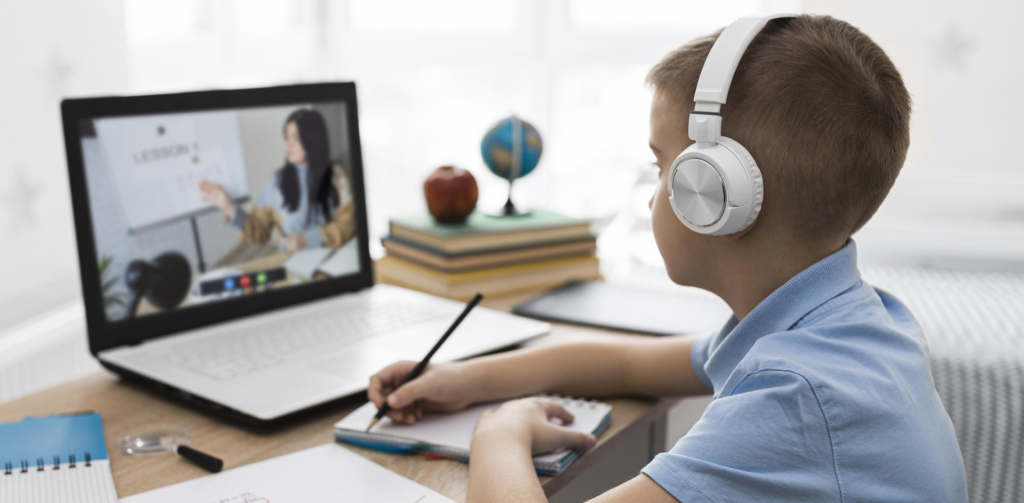 1. Location is Not An Issue
With an e-learning website or application, a user's location is not a hindrance or issue anymore and users are available from all over the world. This remarkably increases the number of people who can interact with your product.
2. Lectures Can Be Taken Any Number of Times
Different from classroom teaching, with online learning you can reach the content unlimited times. This is especially needed during revision time during exam preparation. In a conventional form of learning, if you are unable to attend the lecture, you have to do preparation for the topic by yourself. In eLearning or an educational video platform, you can go for lectures whenever you want at your convenience.
3. Access Offered to Update The Content
A major benefit of online learning and educational video streaming services is that it ensures that you are in sync with today's modern learners. This allows the learner to get access to updated content whenever and whatever time they need it.
Want To Launch Your Own Video Platform For Education?
4. Scalability
eLearning or an educational streaming service helps in producing and imparting new training, concepts, policies, and ideas. Whether for entertainment or formal education, it is a fast way of learning online!
5. Consistency
eLearning allows educators to get a greater degree of coverage to get through the message in a regular way for their focused, target audience. This assures that all learners get the same kind of learning with this learning mode of live streaming for education.
6. Reduced Costs
Starting an eLearning business is economical in comparison to conventional learning forms. A reason for this lesser price is that learning via this mode happens easily and fast. A major chunk of training time is lowered with relation to course materials, trainers, accommodation, and travel.
Such cost-effectiveness helps in improving the profitability of a firm/organization. Also, when studying takes place at your house or your own place, you are not expected to pay for travel expenses like accommodation when training is undertaken in another state or city and/or with outer learning materials.
7. Effectiveness
eLearning has a favorable influence on the profitability of an organization. It makes it simple to absorb and digest the content:
The result is enhanced scores on tests, certifications, and other kinds of evaluation
Increased number of students who achieve 'mastery' or 'pass' level
Improved ability to learn and execute the new knowledge or processes at the work location.
Assists with retaining information or data for a longer time
8. Less Impact on Environment
As a paperless mode of learning, eLearning safeguards the environment to a large extent. According to a study on eLearning courses, it has been discovered that distance learning programs used about 90% less power and produced 85% less quantity of CO2 emissions in comparison to conventional educational courses which are campus-based. With eLearning, there is no requirement of cutting trees to get paper. So, eLearning is a very eco-friendly learning mode.
Must- Have Features Before Building A Video Platform For Education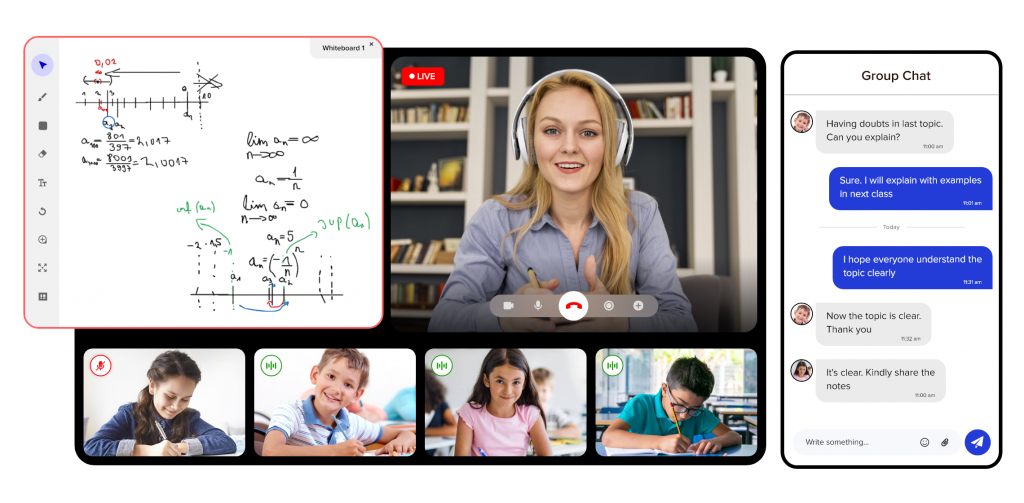 1. Customization:
With customized learning, students are engaged from different backgrounds, ability levels, and interests to steer their educational success. It gives students several ways to approach one single concept.
2. Content Management System:
A CMS or Content Management System is an important feature for an educational platform that is video-based. It assists users in easily organizing, uploading, accessing, and storing content and videos without requiring exclusive technical knowledge. Video educational platform features is vital for a high-quality consumer experience.
3. Payment Integration
Payment integration with high-security is another important platform. Firstly, the best video streaming platforms for education should be armed with various payment currencies and methods. Also, recurring payments and autopay make the payment process extremely convenient for users, as they don't have to pay on a monthly basis. Some well-known and extensively used payment gateways are Apple Pay, Stripe, PayPal, and Google Pay.
4. Facilitation for Live Streaming and Video On Demand
The most effective learning platforms support various kinds of video content to be the one solution that fulfills customers' needs and wants. A high-quality content variety draws in both learners and creators. Learners can view live streams, enjoy edited and pre-recorded videos, and rewatch saved live-streamed lectures. Creators can bifurcate and revamp the content they produce in these education streaming solutions. It's a total win situation.
5. Filters
Users will at first on the platform, find courses which they want. Or they will be sourced from Google and required to filter out courses that don't match their needs. So, filters are user-friendly and available in a wide range. Some popular filter options are rating, language, price, topic, and level.
6. Course Page
Every course needs a committed course page. These pages generally include course plan, prior required skill level, reviews, and ratings, instructor details, language, price, description of learning material from the course, duration, and introduction to the course.
7. Learners' Functionality
Learners' functionality must enable interaction with the platform. Major functionality includes payment history, notifications, course progress, reporting, authorization, purchased and saved courses, purchasing, and calendar.
How To Launch an Online Video Education Platform in 2023?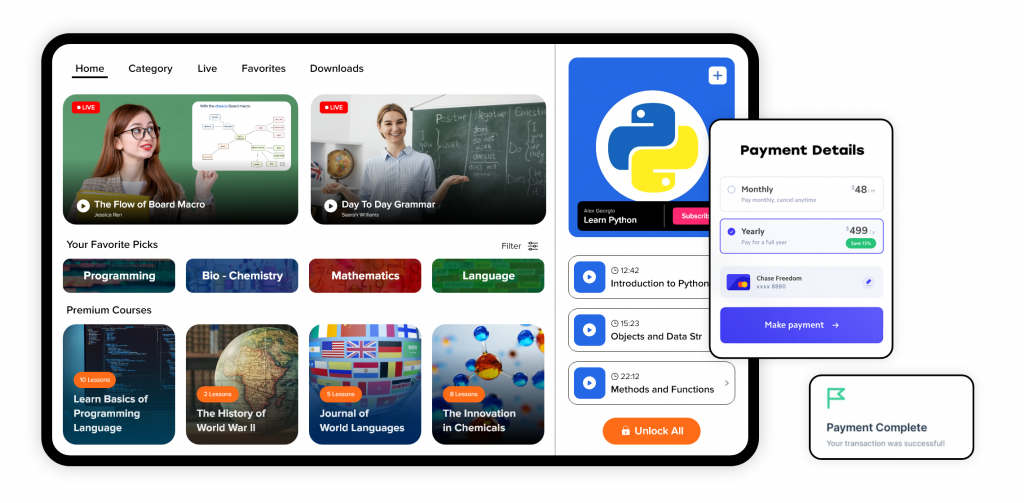 Step 1: Plan for Required Features And Niche
A business analyst will assist you with creating a technical specification: an extensive description of the entire project, technology stack, features, stakeholders and team members who are involved in the project, and more. When the whole detailed development plan is prepared, it is the correct time to begin building your platform
Step 2: Define Your Target Audience
Who are your students and who will utilize your video platform for education, with what objective and when? Find answers to these questions and state demographics of income level, employment, age, ethnicity, employment, current education level, and marital status. This information will be used to improve the video platform design, produce appealing content and enhance your marketing efforts on the educational video on-demand platform.
Step 3: Know Your Platform Requirements
Some questions you will need to answer are what problem does the product offer solutions for, what features are necessary and which can be dismissed, what has the competition worked on what have the results been, and what worked out for the good and what did not in prior eLearning platform projects. Your business vision will be regarded finished when you can describe the product's feel and look, the way it will work, and its aims to the development team and the investors.
Step 4: Hire Qualified Video Content Creators
You have to decide who will be in charge of video content production. If you want to produce high-quality learning content and make your video platform unique, you need to work with qualified content creators. Choose to employ experts who live in your town/city, associate with freelancers, or search for another way to receive professional help.
Step 5: Select a Reliable Online Video Platform for Education
You should choose a well-suited video platform for content streaming. You should make sure that students do not encounter technical disruptions and glitches when viewing online classes. The competition amongst online education platforms is intensive and you should choose a reliable video streaming solution that will fulfill the expectations of demanding users. Live streaming services for education are very popular today.
Step 6: Build a Monetization Strategy
Is your online video platform for education launched for commercial purposes? If yes you must create a monetization strategy and enunciate your revenue streams. Monetize educational video strategies used by competitors to know what strategies will work best in your niche. You should define a suitable fee per video/subscription/course. The amount of fee must reflect video content value and make your platform appear competitive.
Conclusion
Do you feel charged up about launching your online education video platform? Don't back away from taking the first step and bring your ideas to fruition on your video streaming platform for education. Begin generating revenue from assisting people in learning new knowledge and skills – chase your passion and you will create a successful business of video streaming services for education.