Are you the one looking out for more on telemedicine? 
According to research by software advice, it has been found that around 75% of survey respondents are interested in trying telemedicine mainly for the fact that it has eliminated the long lasting gap in the health care services.
That being said, let's see more about this telemedicine app with more on technology and software that can feed your needs.
What is meant by Telemedicine?
Telemedicine is a health-related practice that uses the technology to take care of remote patients when the provider and patient are physically away from each other. This modern technology involves a wide range of uses that includes online patient consultations, remote control, telehealth nursing and psychiatry rehabilitation. 
Now, let's see how the modern technology of telemedicine's has impacted the healthcare industry.
Impact of Telemedicine Over The Way of Treatment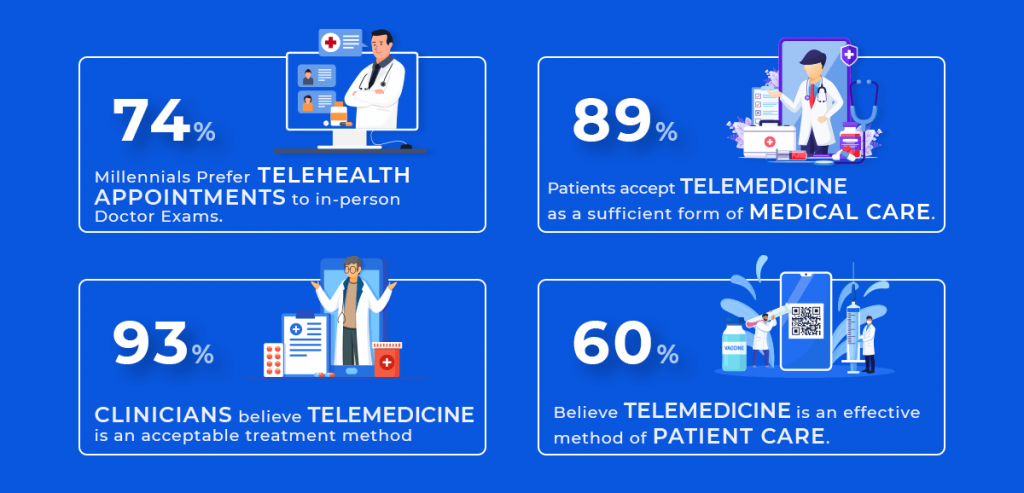 Where the telehealth app is in-use more than ever before, a survey with American Hospital Association conducted in U.S hospitals, says that since 2010, 3 people out of 4 were using the app and have obtained satisfactory results.
This shows that the quality of telehealth care is as good and personalized as in-person care, according to the American Telemedicine Association.
Provides Better Intensive Care to Patients 
In recent time American Journal of Critical Care have published a study stating that nearly 80% of nurses working in the intensive care telemedicine units notified telehealth to be an opportunity giver to provide better patient care. It benefits the tele-intensive care includes,
Enables to accomplish the task in more smarter and quicker way

Improved productivity

Enhanced collaboration

Improved communication with more personalized interaction

Furthermore,

Agency for Healthcare Research and Quality (AHRQ)

reveals that the remote ICU consultations have reduced the mortality rate to some extent.

Improves Outcome for Emergency Care Patients 
According to AHRQ's systematic review studies being published between 1996 and 2018,
Telemedicine consultation for specialty care have lessen the patient time consumption in the emergency department

The heart attack patient were found to experience lower mortality when given emergency telehealth services

The telemedicine consultation has reduced the emergency care transfer which reduces the cost by improving the health care outcome

Enable More Personalized Treatment for Patients with Chronic Conditions
The review conducted by U.S Community Preventive Services Task Force says that the telehealth improves the management of chronic diseases in the below mentioned ways,
Supportive to medications

Better clinical outcomes like blood pressure control

Perfect dietary outcomes including sodium intake reduction

Monitoring Patient's Data Remotely 
The telemedicine app transmits remote patient's clinical data like glucose and blood pressure monitoring to the health care provider in real-time. This indeed supports the doctor to have a fine check on the patient's health condition.
After having some insight on a variety of ways that has impacted the healthcare industry, let's have a quick review on some of the top advantages and disadvantages of this healthcare applications to have a better understanding on its usage.
Benefits of Telemedicine Application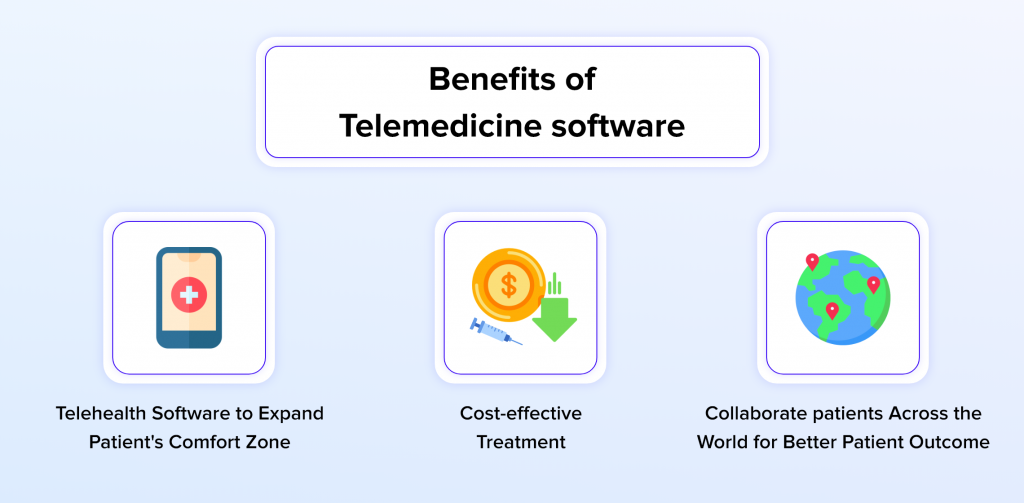 Where the telemedicine software has contributed in making the most out of virtual care applications supporting the healthcare industry's revolution by cost reduction. The technology has also eliminated the complexities in the way of treatment. Let's have a further look
Telehealth App to Expand Patient's Comfort Zone
The technology of telemedicine with virtual care has made patient's healthcare convenient at their comfort of home. Whether it's about connecting with specialist outside the geographical location or within the time zone, the application expands and strengthen patient-doctor relationships with,
Post surgical follow-up

Behavioral health situation

COVID-19

Immediate care

ED Triage to identify patient's immediate stage of urgency to treat

Cost-effective Treatment
With virtual care the cost of treatment is most often less expensive for both patients as well as for providers. It also removes the need of a waiting room and commuting to the clinic, mostly for the patient's who are suffering from some chronic conditions that demand frequent appointments.
Therefore, many virtual care platforms have patient enrollment and scheduling features in such a way that it streamlines the virtual appointment booking. Moreover, the built-in billing system of a telemedicine makes the patient payment collection simple with online transactions.
Collaborate patients Across the World for Better Patient Outcome
The telemedicine application enables the doctors to have a check on their patient remotely – which can indeed maintain the patient's better health by preventing unnecessary need of hospital traveling and admissions.
These virtual care apps also support the patients to clarify their queries related to medication, treatment plan, and also to get a better virtual care from the provider concerning guidance. 
Disadvantages of Telemedicine Application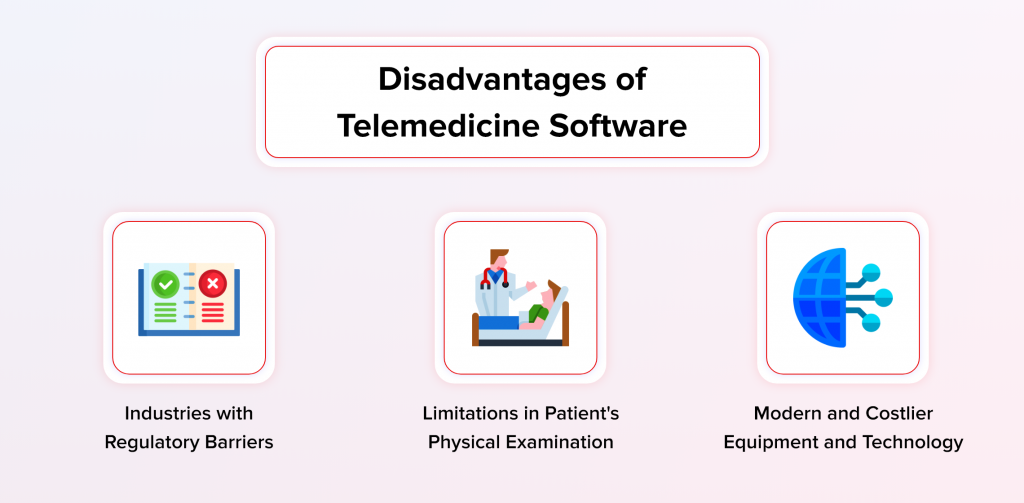 Every potential application will have their own concerns to be dealt with, the same way these virtual telemedicine apps also come with certain challenges. These disadvantages involve continuous need for clearer, streamlined policies and more. So, let's have a look at some,
Industries with Regulatory Barriers
Telemedicine regulations for the healthcare industry differ from place to place. For instance, during the COVID-19 pandemic, most of the waivers expired for people in the first place itself, where the people were not reimbursed with the most of their expenses and this was not evaluated and updated as well in the system process. This has created a source of disappointment among most of the app users.
Limitations in Patient's Physical Examination
Today, the patients and doctors are connecting with the most advanced technology of video conferencing, but still there are patients who need in-person physical examination. The live video communication technology was not enough to provide any in-person or complete medical care. 
Thus, sometimes the patient does not feel comfortable to have an examination over video chat. Henceforth, some patients choose to have an in-person visit instead of a virtual appointment.
Modern and Costlier Equipment and Technology
The telemedicine app provides a lot more in remote health care services including therapy appointments, chronic patient monitoring, and post-operative care. Now for your awareness, since all these services run on software and hardware that are costlier and also need some training to use, these aspects make them undesirable for most of the users.
Is Telemedicine Really A Good Deal for Doctors and Patients? Let's Explore!
According to a study report with Statista, the global telemedicine market size has grown significantly in recent years. As of 2019, the global market is valued around 50 billion U.S. dollars which is expected to reach nearly 460 billion U.S. dollars by 2030.
This shows the impact of this technology for both patient and doctor. Let's have a look from both ends for better clarity,
Best of Telemedicine Application for Patients
Patients have been embracing the advantages of telemedicine app with most of the below,
Easy Access to Any Specialists
The telemedicine application has changed the perspective of treatment where the patient can connect with any specialist around the clock without any prior appointment and get guidance with immediate treatment.
Cost-effective Treatment
Telemedicine has made the appointments typically cost-effective than in-person visits where the people with good health insurance don't have to spend much as before out-of-pocket. 
Easily Accessible Medical Care Without Health Insurance
In earlier days some of the health insurance did cause hindrance between the patient and doctor. But nowadays, most of the companies provide cash-pay telemedicine that doesn't require any health insurance or referrals.
Easy to Access Medical Care for Rural Patients
Telemedicine provides a way for rural patients to have a quick connection with doctors. This saves both time and money allowing people to stay off the road.
Minimal Exposure to Pathogens
With telemedicine apps the patient can stay at home avoiding the use of the doctor's waiting room with other patients, where they are more exposed to the viruses and germs.
Reduces Medical Overhead Costs
Using the telemedicine application the patient can avoid the indirect expenses that are contributed during the patient's medical care. This involves traveling expenses, governance and documentation, etc.
Best of Telemedicine for Doctors
There are plenty of benefits for providers to use telemedicine apps. Let's have a look,
Expand Access to Health Care
Most of the time many hospitals and physicians lack the medical staff they need. With telemedicine apps, now doctors can expand their access to medical care by providing proper guidance to the patients across the world anytime.
Enhances Patients Satisfaction Scores
These healthcare applications have improved the patient satisfaction scores by providing shorter waiting time with convenience in access to care. As per Harvard research study it has been found that each doctor visit takes 121 minutes of patient's time wherein patients spend only 20 mins with the doctor on an average.
Addition Revenue Stream
The doctors can treat more patients quickly with virtual visits or phone calls which takes very minimal time than traditional visits and offer a direct connection to patients without consuming much space.
Great Cut-down on Readmissions
Telehealth allows the doctors to stay in closer contact with more patients, which gives a huge opportunity to assess emerging symptoms and spot early problems before there is a need for serious medical treatment.
Increase in Workflow
These telemedicine apps are designed in such a way that it quickly identifies the patient's reason for calling depending upon which the prioritized care can be delivered, which eventually increases the work efficiency of the doctor or nurses.
Now, after having a brief discussion about the advantages and disadvantages over telemedicine application. Let's have some insight on the technical part.
Telemedicine Software with Its Technical Stacks for Any Healthcare Application
It's the technical stack that makes the functionalities more perfect and convenient. However, it is not mandatory that all healthcare applications should have a particular technical stack to act in the backend. 
But, still there are some considerable set of technology that are mostly preferred. Let's have a look at some of them for better understanding.
Erlang
It is a general-purpose programming language that is meant to create a typical application for communication. It is built-in with a supportive mode for concurrency and distribution with fault tolerance. This technology is made in use with a variety of largest telecommunication systems from Ericsson.
Ejabberd 
Being an XMPP application server and a MQTT broker, Ejabberd is mainly written in the Erlang programming language. It mostly takes care of the message delivery system over any local area network. It simplifies the complicated administration and key usage statistics using an easy-to-use and customizable management module for administrators.
YAWS
YAWS is a web server that's written in Erlang by Klacke. It can be integrated into other Erlang-based applications or can also be run as a standalone web server. YAWS system is highly capable to handle concurrent processes in the most efficient way to have a high-end performance.
PHP 
PHP is a Hypertext Preprocessor which is one of the widely-used open source languages. The technology is free to download and use and can be executed easily on any server. It is a popular language known for its performance and reliability that creates a strong and powerful web development technology when collaborating with AJAX to display the data from the database.
XMPP Server 
XMPP belongs to an open standard that stands for Extensible Messaging and Presence Protocol. It supports instant messaging and near-real-time chat while maintaining the exchange of XML data over a network. The server also provides the basic messaging services with presence and XML routing features.
However, there are many more technologies out there in the market but, the above discussed are the most commonly used ones. Furthermore, let's see why you must consider MirrorFly for your telemedicine application.
Key Reasons to Choose MirrorFly APIs for Your Telemedicine App!
Where telemedicine apps have stretched its reach across the world, every healthcare industry is looking out to build their own healthcare application. Of course, it's not an easy task to make a decision as it involves certain key factors to rely on that includes,
End-to-end Security
For any healthcare application, security is one of the major factors to be checked upon. So, when it comes to MirrorFly APIs they ensure a high-level of security protocol with HIPAA compliance across its APIs and SDKs. This protects patient's healthcare information including confidential medical documents, diagnostic reports, and more.
On-Cloud/On-premises Hosting Services
Storage of data comes at the second most priority for any telemedicine app development. Thus, considering the same MirrorFly offers options in hosting – your cloud or our cloud to store the conversations and related data as per your preference.
High-level of Scalability 
The scalability refers to users retention, and it places a very important role in the real-time communication sector. Our solution is highly capable to get you over 1 billion + users across the world with multiple platforms guaranteeing non-comprisable quality and connection.
Effortless Integration
To develop any telemedicine application it is very essential for the APIs to be compatible to get integrated into any third party or pre-built devices like iOS, Android and web application. Thus, MirrorFly offers simple guided documentation that will have a detailed integration process to proceed with integration. 
Effortless Migration
Sometimes, when you decide to migrate from your existing provider, our solution will take care of the complete end-to-end migration process wherein your conversations and data will be transferred safely without any data loss.
Pricing
Being comfortable at pricing is the best thing you can ever have while developing your telemedicine app. Thus, MirrorFly's pricing comes with two preferable options – self-managed (one-time license cost) and on-cloud (pay-as-you-go), where you can make a choice depending upon your business demands.
Final Words!
I hope now you would have got a better exposure with telemedicine app's usage, technology and more in the industry.
So, now all these concepts excite you to create your own telemedicine apps. I believe this post could be a guidance for you to do further research.
So, what are you waiting for! Stay with us and get to know more.
Thank You!